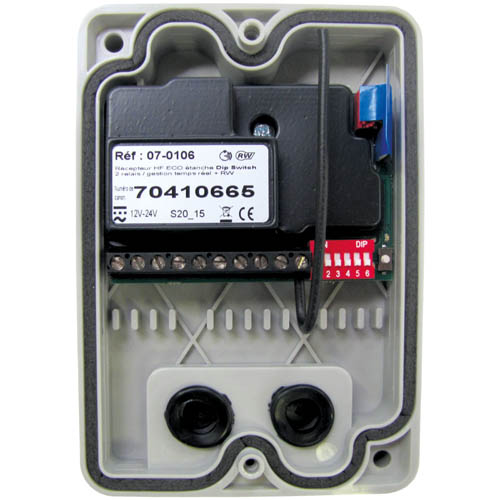 The Intratone 07-0106-EN RF receiver module facilitates not only a cost effective means for radio access control, but also offers security with its 'read / write' technology.
This enables the owner / installer to program remote fobs up in the office and ship directly to site without any callouts & tedious local programming into the receiver. All of this can be managed online, so if a remote is lost, a replacement can be programmed and despatched in its place, rendering the missing one obsolete and no longer functional.
The easy to use USB programmer accessory enables swift execution of configuring remotes, so large jobs with multiple remote fobs can be catered for in no time at all.
The key feature of this receiver is that all future sales of remote fobs must be directed through the account holder for the online management area. This offers guaranteed repeat sales, and - more importantly - additional security on every installation.
Features
Three modes:


Real Time Mode:

Requires connection to a control unit and/or GPRS/3G module

Read/Write Mode:

Requires USB port programmer accessory

Dip Switch Mode:

Works alongside the other two modes

868 MHz rolling code security
Supports up to 2500 users
Programmable relay timings
12/24V AC/DC
2 x NO relay outputs
Internal aerial built-in, also includes an external antenna input
Waterproof IP67 enclosure suitable for outdoor installations

Dimensions (L x W x H) -

129 mm x 90 mm x 37 mm
Please Note: The anti-passback feature is not available with this model (but is available on the EEN-REC2 and EEN-REC2-RW models)
Manuals and Guides
Intratone 07-0106-EN Radio Receiver Manual
Intratone Key Fobs And Transmitters Guide
Intratone Proxy / Radio Accessories Data-sheet

Alternative Model Numbers
EEN-REC4, HREC3-RW
Brochures and Catalogues
At EasyGates Direct we distribute the entire range of Intratone products, have a look at the links below to view all of the access control solutions that Intratone provides. Can't find what you are looking for? No worries! Contact us by clicking here and we will be happy to help.
Dimensions
Dimensions (L x W x H)
129mm x 90mm x 37mm
Performance Data
Operating Temperature
-20°C to +70°C
Storage Temperature
-20°C to +70°C
Radio
Coding Type
Rolling Code
Frequency (MHz)
868 MHz
Technical
Number of Relays
2
Protection Level (IP)
IP67
Time-Delay Relays
0.2 to 60 sec
Intratone 07-0106-EN RF Radio Receiver ECO With Internal Aerial (EEN-REC4)