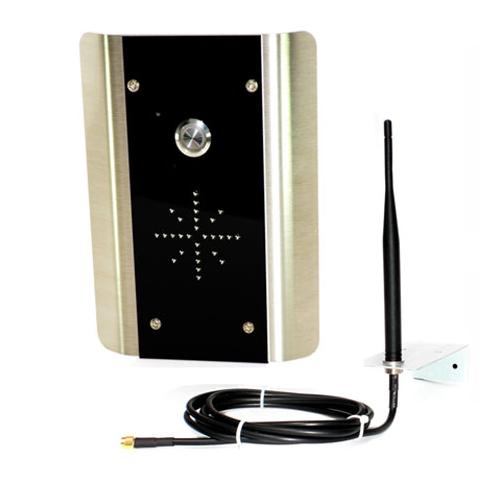 The PRIME6-AB is an architectural GSM intercom provided by AES. Part of the CELLCOM Prime range.
Replaces the previous GSM-5, GSM-4 and GSM-3 range.
CELLCOM PRIME - MOBILE ACCESS MANAGEMENT
Access control just got even better, now you can manage your intercom directly from your mobile phone via the easy to use app.
Free, easy to use Android & iPhone app for easy gate control.
Built in 7-day time clock.
Auto open/close gates at pre-set times of the day/week.
User log sent to your phone, with event history.
Notification to master phone when access granted.
Do not disturb and watershed feature to prevent nuisance calls at night.
Technical Features include:
15v DC Adaptor included
2 GSM PCB Relay
4 Dialling Numbers
100 Caller ID Numbers
Alerts when gate triggered (max 40 automatic trigger events per week)
45mA Modern Standby
Power Consumption - 300mA (on dial out), 2 amp peak demand
Other features include:
Stylish curved model
Modern blue back lighting effect
BS316 Marine grade, brushed stainless steel construction with gloss acrylic trim
Kit includes speech panel, antenna, power supply & installation manual
Electrical Data
Power Consumption
300mA on dial out, 2amp peak demand
Power Supply
15v DC (Included)
Technical
Caller ID Numbers
100
Dial Out Numbers
4
Max Number of Codes
Modem Models
2G quad band, 3G EU, 3G USA
Number of Relays
2
Relay Contact Load
2 amps, 24v AC max
Relay Type
N/C and N/O
AES PRIME6-AB CELLCOM Prime - 2G Architectural GSM Intercom