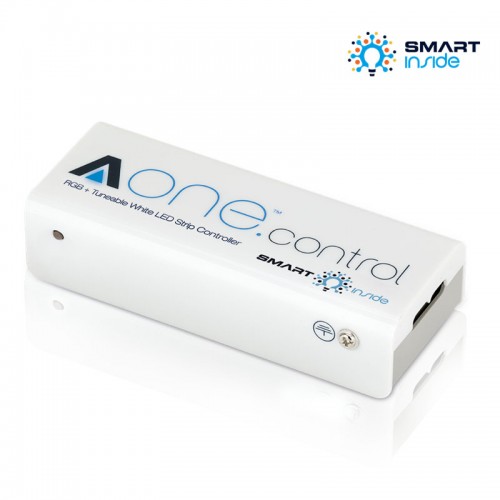 The AOne Zigbee RGBW tuneable dimmable LED strip controller allows control of lighting circuits through the AOne App or remote control.
Designed to fit between a LED strip and non-dimmable constant voltage LED driver . This then allows 5-100% dimming control without requiring specialist DMX drivers.
Supports lighting scenes and schedules, including the ability to be controlled individually or within a space.
Total output 144W at 24V DC or 72W at 12V DC. Requires a EN-STRGBCXB connector for installation.
Features
Lighting circuit control from any where in the world via the Aurora AOne App or remote
Retrofit using existing wiring
Up to 240W circuit load per dimmer
Fast & hassle-free installation
Multi-user control
In-Line dimmer can be controlled individually or as a group
Scene scheduling
Designed with lighting in mind
Works with Google Home (AOne Hub is required)
Zigbee HA1.2 to triac dimming control module
240W Maximum load (@240V AC)
Triac dimming. Dimming range 5-100%
APP Controlled by handheld devices
Single colour and leading/trailing edge dimming
100 over temperature protection
Compatible with most dimmable fixtures on the market
3 Year Warranty
Manuals & Datasheets
AOne Zigbee 144W RGBW Tuneable Dimmable 12/24V LED Strip Controller