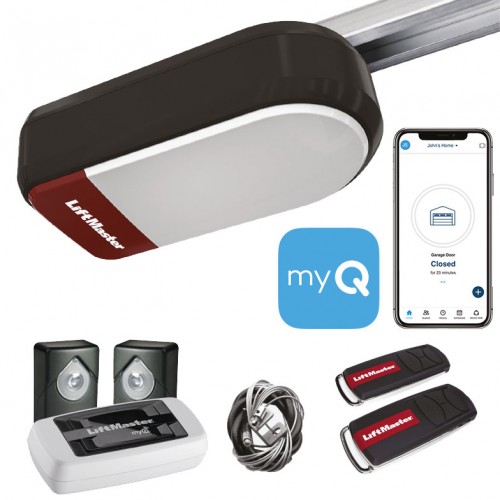 Featuring smartphone app control, incredibly smooth/ultra-quiet operation and economical energy efficiency, the LiftMaster LM70EVFFC is a myQ enabled smart garage door opener kit that is designed with the future in mind and is packed full of features.
This all-in-one kit includes an array of accessories as standard at no additional cost. This kit comes complete with the 828EV myQ gateway, TX4EVF 4-channel remote controls, 771E safety photocells, and a quick-release mechanism for secured access in the event of a power failure.

A contemporary, bright LED lighting system is built-in which makes navigation in the dark a breeze. The ultra-quiet operation makes this garage door opener perfect for residential settings.
Key Features
All-in-one kit includes an array of accessories as standard at no additional cost
Smartphone app control anywhere, any time via the free myQ app
Smooth and ultra-quiet operation, perfect for residential use
Economical energy efficiency, this opener uses only 0.8 W on standby power
Built-in LED lighting system for convenient use in the dark
myQ Smart Technology
myQ enabled garage door opener, integrate your garage door into your smart home ecosystem
Open/close and monitor your gates or garage doors from anywhere in the world via the free myQ app
Control via Apple iOS / Android smartphones and Apple Watch
Real-time notifications will instantly alert you to any goings-on
Set schedules/routines to streamline day-to-day life
Share access with family and friends, each with their own individual settings


Other Features
Efficient and reliable 24V DC motor

Setup and programming are quick and simple
Multi-frequency radio with 7 bands (433 MHz / 868 MHz)
Soft start/stop, no harsh banging or clattering of garage door
Automatic safety stop during opening/closing when photocell beam is tripped
Garage Door Compatibility
This opener is suitable for use with retractable "one-piece" and sectional "roller" type garage doors only.

Retractable "One-Piece" Garage Doors
Max width:

5000 mm

Max height:

2500 mm

Max weight:

110 kg
Sectional "Roller" Type Garage Doors
Max width:

5000 mm

Max height:

2500 mm

Max weight:

110 kg
Kit Contents
1 x Drive head (LM70EVFFC)
2 x 4 Channel remote control (TX4EVF)
1 x myQ Gateway (828EV)
1 x Pair of Infrared safety photocells (771E)
1 x Quick-release Mechanism (EQL01EV)
1 x Rail & assembly accessories
Manuals & Datasheet
Details
Door Linkage
Adjustable door arm. Pull cord trolley release.
Soft-Start / Soft-Stop
Yes
Dimensions
Hanging Weight (kg)
~ 12 kg
Headroom Required (mm)
min. 35 mm
Length of Travel
2682 mm
Overall Length
3367 mm
Drive
Drive Mechanism
Belt
Max Door Height (m)
2.5 m
Max Door Weight (kg)
110 kg
Max Door Width (m)
5.0 m
Max Pull Force (N)
700 N
Motor Type
DC gear motor permanent lubrication
Electrical Data
Lamp
On when door starts, off 2-1/2 minutes after stop.
Limit Device
Mechanical RPM/Passpoint detector
Stand-by Power
0.8 W
Transformer
Transformer overload protector and low voltage push button wiring.
Input Voltage
220-240 VAC, 50/60 Hz
Memory
Memory
180 registers
Performance Data
Speed (mm/s)
160 mm/s
Radio
Radio Frequency
7-Band (433 MHz / 868 MHz)
Technical
Force Adjustment
Automatic force adjustment
Limit Adjustment
Electronic
Noise Level (dB)
54 dB
LiftMaster LM70EVFFC myQ Enabled Smart Garage Door Opener Kit (110KG)