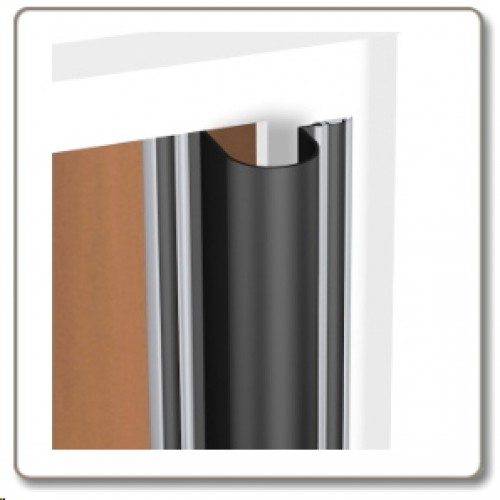 Details -
The AFFKIND is a Finger Keeper Industrial heavy duty hinge guard (standard - 157mm x 2100mm - black), complete with anodised aluminium and TPV rubber construction. Conforms to UK H&S Regs. 1992 (SI 3004).
Finger Keeper Industrial is a heavy duty finger-pinch protection device (anti-finger-trapping hinge guard) manufactured from Black TPV fitted in an Anodised aluminium carrier, that has black inserts to conceal the fixing screws. The TPV safety strip prevents fingers being pinched on the hinge side of a gate. It is fixed to the gate and the post / pillar on the hinged side.
Technical Features Include -
Dimensions -

157mm Width / 2100mm Length

Materials / Finish -

Anodised aluminium and TPV rubber (black)

Fixing Method -

Zinc plated, cross recess head S.T. screws (included with product).
Fixing holes are slotted. Push-in cover strip.
Other Features Include -
Conforms to UK H&S Regs. 1992 (SI 3004).
Capable of being retro fitted
Can easily be cut down to size
Suitable for external use
Fits butt hinged or centre pivot doors & gates
Suited to demanding commercial and industrial environments
Details
Materials

Carrier - Satin Clear Anodised Aluminium (15 microns)

Strip - Black TPV rubber

Dimensions
Dimensions

Width - 157mm

Length - 2100mm (can be easily cut down to size)
Finger Keeper Industrial - AFFKIND - TPV - Heavy Duty Hinge Guard - Standard - 157mm x 2100mm - Black