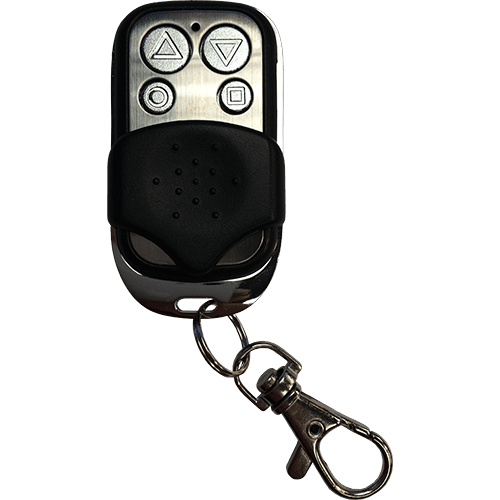 Features
4 channel remote
Can copy any 433Mhz fixed code remote with DIP switches or fixed code remotes such as : Came TOP432S and TOP432NA. BFT TEO2. NICE FLO1,2,3,4.
The CL4000 can assign up to 4 different channels to the 4 buttons. i.e. upto 4 garage door or gate receivers.
This remote is not compatible with rolling code or code hopping technologies.
Operating Distance: 80m*
Batteries Included
Battery: 27A 12V
Simple 4 Step Programming Instructions
Clear memory and prepare for programming - Hold down buttons 1 and 2 until the blue LED fashes - this takes around 20 seconds.
Place the original and the clone remote close together.
Press the button to be programmed on both remotes and hold until LED fashes steadily on the clone remote.
Programming is complete - Repeat steps 2-4 to program extra buttons.
Quick Programming Video
Details
Button Colour
Silver
Remote Colour
Black and Silver
Radio
Coding Type
Fixed Code
Dipswitches
No
Frequency (MHz)
433.92 MHz
Technical
Battery Type
27A 12V
CL4000 4 Button Cloning Remote