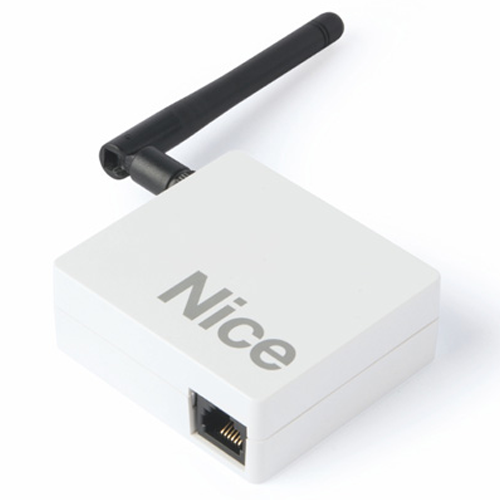 Want to make sure that your garage door is open when you return home? Would you like to make sure that the garage door is closed properly?
With the Nice IT4WIFI you can! Once connected to your wifi network you will be able to have full control of your garage door & gate from your iPhone or Apple Watch. Anytime. Anywhere.
Designed to work seamlessly with Apple Homekit, allowing for control of your compatible garage door & gate opener via the app connected to your home hub.
Installer friendly and easy to use, the IT4WIFI offers a wide range of features designed to make life easier!
Using the app - open the app, and simply tap the button to open and close your garage and gate.
Voice Control - "Hey Siri, I'm almost home, open the garage door", and you will be able to drive straight in with no hassle.
Geolocalization - decide the distance at which your door will automatically open and the IT4WIFI will take care of the rest!
One app is all you need
Apple Home - With the Apple Home, you can easily control your HomeKit accessories also remotely, for a smarter and more advanced home.
Control the Home - You can turn off the lights from your iPhone, see who's ringing the bell at the door on your iPad. And of course, open your garage door from your iPhone or Apple Watch when you're about to enter.
Apple TV - Using your Apple TV or iPad as your home hub, you can control your house wherever you are.
Setup Scenarios - You can also create predefined scenarios that include several actions: for instance you can set up the "Back Home" scenario for opening your garage door, turning on the lights and opening the blinds all together through one single command.
Technical Specs:
Voltage: 24 V
Current: 30mA
Max. Power Input: 700mW
Operating Temperature: -4°F to 122°F
Protection Rating: IP30
Dimensions: 58 mm x 63 mm x 24 mm (Excluding SMA & Antenna)
Compatible with Nice garage door openers that use BusT4 Protocol
Kit Includes:
IT4WIFI Device
IBT4N Interface
RJ-11 Telephone Cord (6 Positions - 4 Contacts)
Dimensions
Dimensions (L x W x H)
58 x 63 x 24 mm
Weight (g)
60
Electrical Data
Voltage
24v
Nice IT4WIFI The Smart Garage Door & Gate Interface