We would just like to thank everyone who has attended our 'Training Tuesdays' events, we have really appreciated your support and engagement throughout our courses and were really impressed by the interest and feedback that has been given throughout the September and October training courses.  This has been a fantastic opportunity for local traders within the industry to develop their knowledge and expertise based on specific products. 
Also, we encourage you to get in touch if you have a product training that you would be interested in taking part in that we don't already do, this will help us to organise more product training events that will help YOU! 
Don't miss out on the final FREE October course! – Nice Gate Automation Control Panel training which includes wiring, programming and fault finding, held here at EasyGates Direct, Halesowen! 
This course will introduce and develop your knowledge on the general control panel basics regarding the MC824H, MC800, RBA3/RUA2, MINDY A60 panels. 
The topics that will be covered include: 
Diagnosing/Fault Finding

 

Integration of Safety

 

Using the OVIEW Programming Tool

 
We will then conclude with a Q&A session to answer any queries that you may have, which should take us to a mid afternoon finish.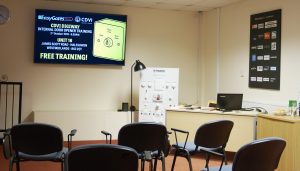 For more information or to book your polace today, contact us today at:
info@easygates.co.uk or dave.blake@easygates.co.uk
alternatively you could call us at:
01384 569 942 
Don't forget to sign up to our Trade Store to receive great offers and track your orders! 
To keep up to date with our latest offers, training courses and news  follow and like us on Facebook, Twitter and LinkedIn.