We're back this November with another fantastic offer of the month, we're offering the Nice ROBUS 500 Hi-Speed Gate Kit at more than 20% off for all of our trade customers!
Make sure you log into your trade account to redeem your discount this before the end of November!
Knowledge Hub – Featured Product
Nice ROBUS 500 Hi-Speed Gate Kit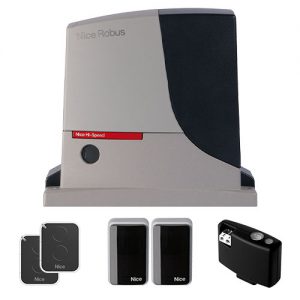 Key Features:
Opens a 4m gate in 9* seconds!
High Duty Cycle for regular use
24V Battery Backup Available
Max Gate Weight – 500KG
Product Features
User-friendly
Thanks to the Nice BlueBUS technology, the control unit can be connected to up to 7 pairs of photocells, control units and security and signalling devices using two wires only.
Practical 
Control unit and buffer batteries PS124 (optional) are connected by a practical guided plug-in connector, housed in the gear-motor.
Advanced
The temperature sensor adapts the motor power to the environment and at the same time thermal cut-out; a master/slave selection automatically synchronises two motors. This means it is possible to automate 2-leaf sliding gates set opposite each other.
Intelligent
Thanks to the obstacle detection system and automatic programming of the working times. Self-diagnosis by means of a flashing light. 8 programming levels.
Safe
Acceleration and deceleration can be adjusted at the beginning and at the end of each opening and closing manoeuvre.
Sturdy
Pressure die-cast aluminium base and release, with epoxy painting and easy to open handle.
Silent
Gear motor on bearings.
Adjustable
Variable speed in both directions.
Convenient
Compartment for control unit protected by removable box.