Summer is right around the corner, and to celebrate we are offering another excellent deal on the Nice TOONA4024-DKIT Double Swing Gate Opener Kit (24V, 3M, 500KG) as part of our Offers of the Month this June.
The TO4024 motors have a magnetic encoder, making them perfect for intensive use with the control unit Moonclever MC824H.
You can find this amazing offer (and others like it) in our Offers of the Month collection.
Don't miss out, offers end 30th June!

---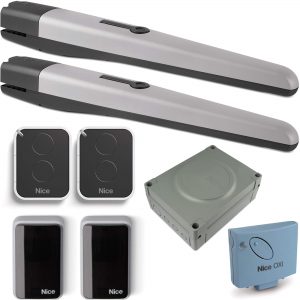 The TOONA4024-DKIT (previously known as Toonakit 3) is for swing gates with leaves up to 3 metres OR 500kg, made up of a surface mounted electromechanical gear motor. This is ideal for residential use, due to it's durability and resistance to all conditions. The internal moving parts are steel, with light alloys and technopolymers. The Toonakit has a generously sized and practical connection compartment, giving rapid and easy access to internal parts in the upper section of the motor. The installation process is simple, and has a built in capacitor for any maintenance that is required.
This is the 24 Vdc version with magnetic encoder, making it perfect for intensive use with the control unit Moonclever MC824H.
Features
Control Your Gate From Anywhere, Anytime
Have full control over your electric gate using your iPhone, Apple Watch or Android smartphone (requires Nice IT4WIFI accessory)
Safety
Dual technology obstacle detection
Deceleration on closing and opening
Irreversible with mechanical stop on opening
Magnetic encoder
Connection for EN compliant 8.2K safety edges
Automatic fault diagnosis
Pedestrian pass door
Optional rechargeable backup battery for operation in the event of power failure (PS324 model)
Durable Materials
Features an aluminium housing, with a polyester paint finish, which increases resistance to atmospheric agents
Internal components constructed from steel, light alloys and technopolymers
Built in capacitor for any maintenance that is required
Installer Friendly
Simple installation process
A generously sized connection compartment allows easy access to the internal components of the motor
Single key, simple programming
Programming of pause timing
Easy understanding of opening and closing limit positions, with self-learning function and automatic memorisation
Fully compatible with Nice's Solemyo solar power kit and Opera management system for GPRS and Bluetooth connectivity / operation
Integrated Nice BlueBUS technology, allowing connection to up 12 devices with just two cables
What's Included
2 x TO4024 Electro-mechanical gear motor (24v)
1 x MC824H Moonclever control panel
2 x ON2E Era 2 button 433.92 MHz remote control
1 x EPMB Pair of surface-mounted BlueBUS photocells
1 x OXI 4 channel receiver
---
For more information or queries contact us.