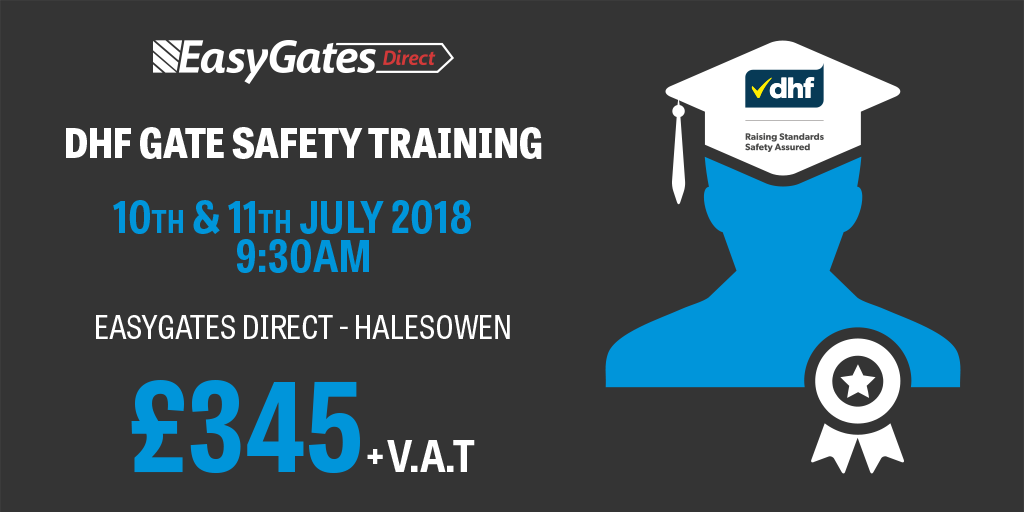 We are holding a DHF Automated Gate Group Training course at our offices on the 10th to the 11th July 2018 for £345 plus V.A.T.
The two day course will cover laws & regulations, use of standards, risk assessment, testing and inspection, repair and maintenance, documents & CE Labels.
The course is available to members and non-members of the DHF. EasyGates are subsidising the cost of the course for non-members (normal fee is £495 plus V.A.T).
This is to encourage more people who are responsible for the safety of automatically controlled powered gates to follow the correct safety guidelines. The fee includes all pre and post course material, electronic updates, lunch, refreshments & parking.
The course is open to all those responsible for the safety of automatically controlled powered gates and has been specifically designed for companies and individuals who install automated gates. However, it is also suitable for manufacturers, component suppliers and maintenance contractors.
The course takes place over two days and focuses on technical and practical safety procedures. The DHF Gate Safety Diploma covers all aspects of gate safety from initial risk assessment through to force testing & commissioning.
It ensures that installers are fully conversant with all relevant safety regulations, can prepare a technical file and can issue a Declaration of Conformity. This means DHF Automated Gate Group member companies' personnel are trained to provide and install fully compliant gates in all environments including residential, industrial and commercial areas such as school grounds & parks.
The DHF Gate Safety Diploma assures the customer that he/she has chosen a safe product from an accredited manufacturer and has been fitted by a fully trained installer. It gives the customer complete peace of mind that he/she has made a responsible and safe choice.
The two day course will be held at EasyGates main office in Halesowen and will commence promptly at 9:30am. Lunch and refreshments will be provided across both days, and parking will be available.
For further details, please contact our offices by email dave.blake@easygates.co.uk, or call us on 01384 569 942.
Opening times Mon – Fri, 08:00 – 17:00 Saturday, 08:30 – 14:30