Intratone's Mini Keypad entry kit. This kit Provides flexible access control which can be remotely configured and programmed via means of the 4G/GSM and maintained by the free online management software. The keypad kit is an ideal security solution with many updates and features.  Watch this short video for a an overview based on the key features of the mini keypad kit.
Check out the key features of the easy to use Intratone mini keypad to, got straight to https://www.easygatesdirect.co.uk/store/gate-automation/gate-spares-replacements/radio-receivers-antennas/advance-radio-equipment/intratone-06-0130-en to purchase your keypad now!
Kit Contents:
Keypad (04-0107-EN)
1x GSM/GPRS Data Module (o6-0129)
Key Features:
Maintained by the FREE online management software.
Integrated radio RF receiver, which means you can use remote control access as well as using the keypad for security and another way to control the your system.
Store up to 80 separate codes, which will open 1 to 2 doors.
Can be accessed using remote controls, mobile phone entry or coded entry.
Comes with a 10 years pre-paid sim for data and online management.
3 month event logging and mobile key back up.
The diagram below shows how the keypad works as well as its main features.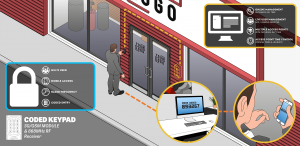 For more information and technical tutorials there is also access to our manuals site via https://manuals.easygates.co.uk
Follow and like us on Twitter and Facebook for updates and information on new tutorials and advice!
For more information, contact us today at:
info@easygates.co.uk 
alternatively you could call us at:
01384 569 942